Opening Reception: Leonardo Art and Science Talk – 4 Jan 2019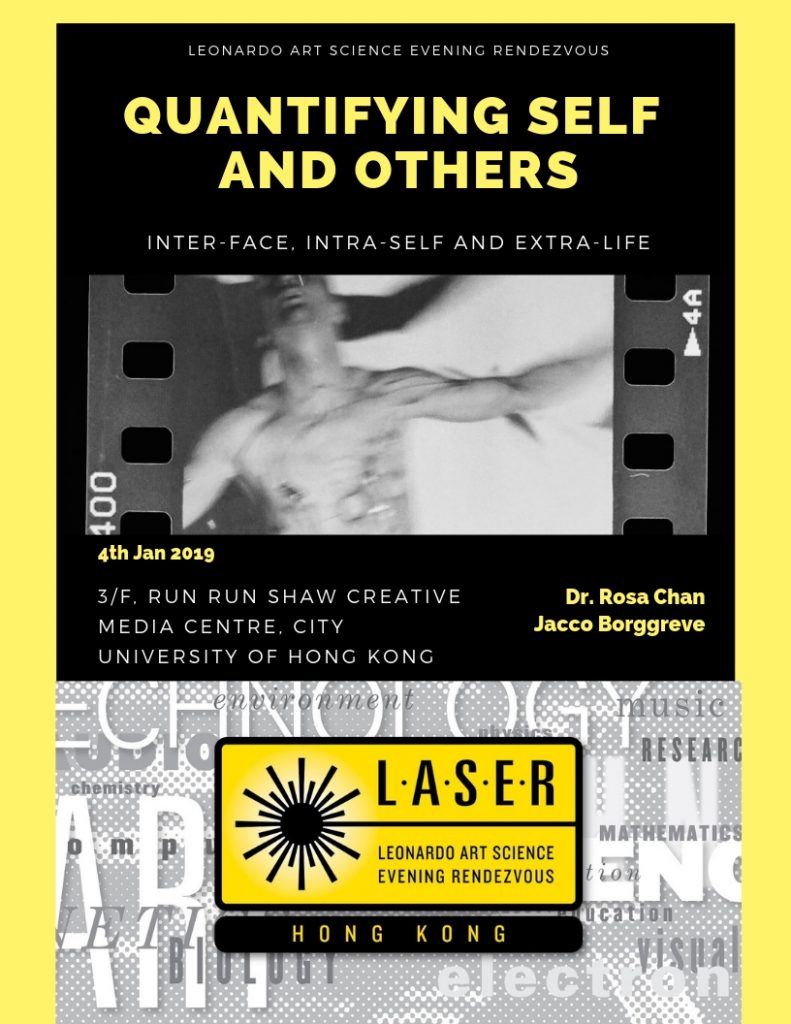 As the opening event for the Open Systems Salon, we are holding a Leonardo Art and Science Talk, a free event on brain-computer interfaces and the quantified self.
Friday, 4 January 2019, 8-10pm
3F Singing Waves Gallery, Run Run Shaw Creative Media Centre, City University of Hong Kong
Follow the event on Facebook.
Speakers:
Dr. Rosa Chan, Associate Professor in the Department of Electronic Engineering at City University of Hong Kong.
Jacco Borggreve, artist.
Hosts:
Yun Wah Lam & Maro Pebo
In the last decade, we have witnessed astounding technical advances for recording and manipulating neural activities. With more powerful computing capabilities, can we upload our consciousness to the Internet in the future? Are the technologies seen in sci-fi movies possible?
Dr. Rosa Chan will introduce neural interface as a communication channel for the biological neural network (e.g. human brain) to interact with computer or machine directly. We will explore the trends in exponential technologies that may even provide intuitive solutions to restore nervous system function damaged by disease or injury.
–
How can we try to define the quantified self? do we view it as a tool, an extension of the self or maybe a different kind of entity altogether? What emerges in the entangled mesh of the human body, when data is extracted and given a body of its own.
Jacco Borggreve explores the possibilities of artificial non-biological life using EMG, EEG, ECG, cameras, and microphones. The artist argues that the appropriate response to the emerging questions regarding post-human life lies not in a technical approach per se, but rather in a reevaluation of the current lens we view life in.
ABOUT LASER HONG KONG
LASER (Leonardo Art Science Evening Rendezvous) Talks is an international programme of evening gatherings that bring artists and scientists together for informal presentations and conversations.
Usually held at Duddell's every quarter, LASER Hong Kong hopes to create a platform where people meet, conversations flow, ideas sprout, friendships blossom, and collaborations germinate.
Rosa H. M. Chan is currently an Associate Professor in the Department of Electronic Engineering at City University of Hong Kong. She was later awarded the Croucher Scholarship and Sir Edward Youde Memorial Fellowship for Overseas Studies in 2004. She received her Ph. D. degree in Biomedical Engineering in 2011 from the University of Southern California (USC), where she also received her M. S. degrees in Biomedical Engineering, Electrical Engineering, and Aerospace Engineering. Her research interests include computational neuroscience, neural prosthesis, and brain-computer interface applications. She was the co-recipient of the Outstanding Paper Award of IEEE Transactions on Neural Systems and Rehabilitation Engineering in 2013, for their research breakthroughs in mathematical modelling for cognitive prosthesis. Dr. Chan was the Chair of the Hong Kong-Macau Joint Chapter of IEEE Engineering in Medicine and Biology Society (EMBS) in 2014 and is elected to the IEEE EMBS Administrative Committee as Asia Pacific Representative (2018-2020).
Jacco Borggreve is a Netherlands-based new media and performance artist who has used implants, biomedical sensors, data-exhibitionism and automated processing to research the quantified self, data-ontology, death, self, unity and the body. He became national news after using his implant to broadcast his location in a performance that lasted eight months. This performance lead to participation in an ethics committee regarding citizen surveillance and smart-city development for the Dutch government. He was a guest curator for a series of exhibitions in Lil' Amsterdam Gallery, his work was awarded the Trias Innovationis prize for Art & Science by QAQS. The artist collaborated with the University of Twente on a series of projects regarding citizen participation and multiculturalism. Borggreve is currently involved in research within the faculties of Smart City Research, Smart Textiles and Ambient Intelligence at Saxion University of Applied Sciences where he is leading a course on capacitive relational thinking, supervising a graduation project on the use of EEG systems in Smart City development and furthering his research on performing arts, artificial life and complex system theory.