Open Systems Salon Artist Talk (Sunday)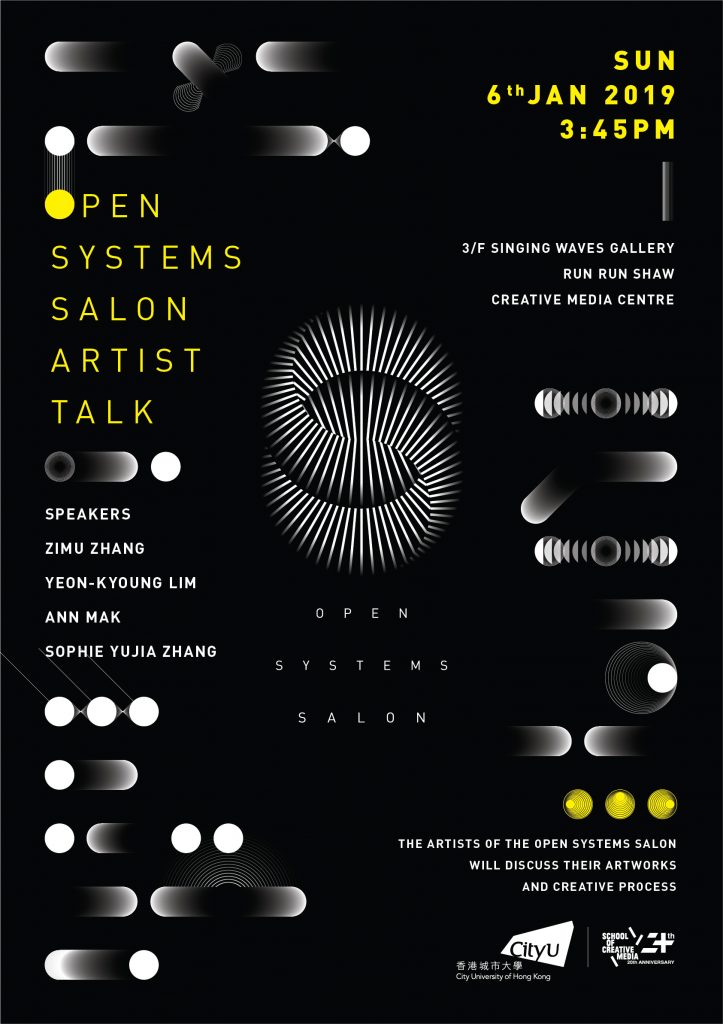 Open Systems Salon Artist Talk  (Sunday)
Time: 3:45-5:15pm,  6 January 2019.
Venue: 3F Singing Waves Gallery, Run Run Shaw Creative Media Center.
The artists of the Open Systems Salon will discuss their artworks and creative progress.
Speakers:
Yeon-Kyoung Lim is an artist and PhD researcher, working on the loosely/tightly-coupled relationship between humans and technical things. Her research lies at the intersection of critical media theories, visual studies, and gender studies.
Zimu Zhang is a moving image practitioner and researcher. She is currently conducting her PhD research at City University of Hong Kong. Her research interests and focuses involve around the conjunction of moving image with new materiality and society of control.
Ann Mak is the PhD candidate at the School of Creative Media, City University of Hong Kong. She has been playing a dominant role in planning and execution of several large-scale art projects in Hong Kong namely the Hong Kong Interactive Media Art Exhibition, Fleeting Light in 2014 and the new media project Open Sky Campus from 2014 to 2016. 
Sophie Yujia Zhang is a PhD student at the School of Creative Media, City University of Hong Kong. Her current research interests focus on emotions and art, and she is also interested in social media studies, image analysis, facial expression detections and 3D printing.