Open Systems Salon Artist Talk (Saturday)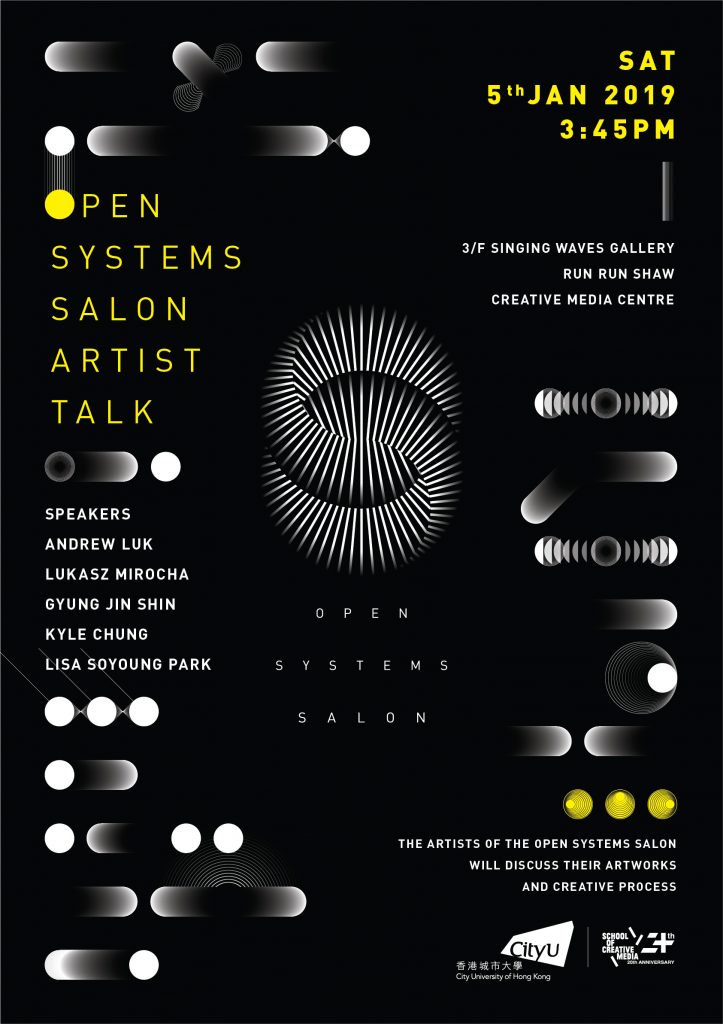 Open Systems Salon Artist Talk  (Saturday)
Time: 3:45-5:15pm,  5 January 2019.
Venue: 3F Singing Waves Gallery, Run Run Shaw Creative Media Center.
The artists of the Open Systems Salon will discuss their artworks and creative progress.
Speakers:
Andrew Luk is a specialist in the history and memory that is embedded in detritus materials from the urban environment. He studied Fine Art and European History at the School of Art & Design at Suffolk University in Boston and has exhibited in the USA, Hong Kong and Korea.
Lisa SoYoung Park is a South Korean born artist, currently pursuing her doctoral research on the influences of East Asian cultural traditions on new media art practice at the School of Creative Media, City University of Hong Kong.
Kyle Chung  is a Hong Kong based curator whose recent exhibitions explore the dynamics between technologies, materiality and human agency. Chung is House Curator at Videotage, Hong Kong; Senior Research Associate in the Centre for Applied Computing and Interactive Media, City University of Hong Kong.
Lukasz Mirocha is a new media and software theorist and practitioner, pursuing a PhD at the School of Creative Media, City University of Hong Kong. He is interested in media aesthetics and design (particularly VR, AR, MR) and software studies. 
Gyung Jin Shin is an artist, researcher, and PhD candidate of the School of Creative Media in City University of Hong Kong. Her research interest includes critical theory, art, aesthetics and politics, post-media discourse, post-internet art, and media archaeology.